Our Story
Meeting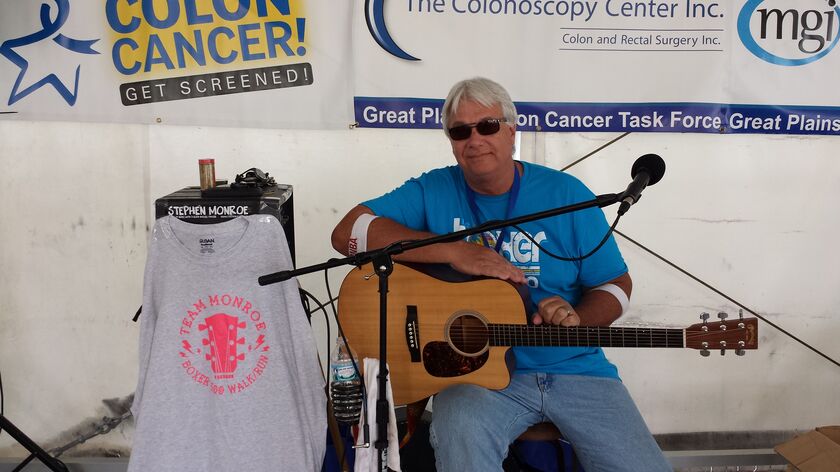 In August 2010, Kay arrived at Walnut Creek Recreation Area in Papillion at 6:30 a.m. to volunteer at the Boxer 500, A Short Run/Walk for Colon Cancer Awareness. By 7:30 or so, she was cutting butter for the Pancake Man. Cutting butter. Cutting butter. Then she spied a really tall guy with beautiful white/silver hair walking briskly onto the grounds. THEN she spied the guitar case he was carrying, and she was intrigued. As it turns out, Steve was also volunteering at the Boxer 500. He was providing entertainment.
With a little nudging from her friend 'Lissa, Kay went to talk to Steve. She opened with questions about his guitar as she was seeking a good starter instrument for herself. (She really was.) Of course this was just the opportunity she needed to get a closer look at the tall man with the beautiful hair. Kay learned about Steve's guitar and much, much, much more.
Kay and Steve connected on Facebook, and Kay went out to hear Steve play at a few venues over the next several months.

Dating
On January 22, 2011, by 6:30 p.m., Omaha was covered in snow. Kay was navigating home after her 5:30 church gig. Steve was preparing for his 7:00 bar gig. The snow continued. Once home, Kay checked to see if Steve was still playing; check. She took off for the bar. The snow continued.
Kay arrived and stepped inside. No music. Hardly any patrons. Then a guy on a bar stool with his back to the door turned around. There was Steve! Feeling slightly bold, Kay hopped onto the bar stool next to that tall guy with the beautiful hair. The snow continued.
For the first time really, they had the opportunity to talk. The spark of attraction was fanned. Kay and Steve talked for a couple of hours, while the snow continued.
Kay was impressed that Steve helped her clear the snow off her car.They both made it home safely. And they had each other's phone numbers. And that was that.
January 22, 2011 is our dating anniversary.

The Wedding
Sunday, September 3, 2017
1:30 PM
Ceremony and Reception
Aspen Room
9809 M St, Omaha, NE 68127, USA
Our Wedding Invitations
Tanjalin Designs
The wonderful invitations, announcements and engagement photos are the brain child of Lindsy Brown of Tanjalin Designs. With collaborations from Kay and Kelsy Colvin on the invitations, Lindsy Brown is the designer/graphic artist and CEO of TANJALIN DESIGNS.
Her email is tanjalindesigns@gmail.com. We HIGHLY recommend TANJALIN DESIGNS.
Lindsy and Kelsy are Steve's daughters and that makes this even sweeter.
TANJALIN DESIGNS has also done Stephen Monroe's last two CD covers.